Hunter Not Guilty Verdict 2023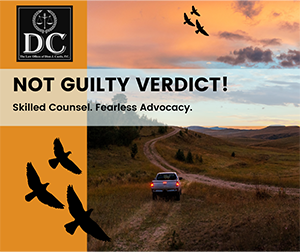 Recently, a client was charged with felony possession of a deadly weapon with unlawful intent to harm. This client is an older hunter. As he was driving, a ranch owner confronted him and his brother on a public road. Then proceeds to tell them that it is a private property on both sides of the road. My client gets out of the truck, grabs his shotgun and shoulders it. The alleged victim claimed that he walked to her truck and started yelling.
She proceeded to call the police claiming my client pointed a shotgun at her and threatened to kill her. My client and brother both said he never pointed a gun at her. Wyoming is an open-carry state, so he can legally walk up to a car with a shotgun.
The police questioned my client and his brother on the allegations, and they told them that they never pointed a shotgun at anyone. My client challenged the police, letting them know that he did not point his gun, threaten, or do anything outside of his rights. Police arrested him and didn't bother with an investigation or follow-up.
Our client never pointed a gun, nor did he threaten the alleged victim. In the initial police report, the alleged victim claimed that my client "kind of" pointed the shotgun at her three different times. But, on cross-examination, in court, she stated that he "definitely" did point the gun at her. We argued that she was lying or mistaken but not definitive enough for proof beyond a reasonable doubt. She also claimed on the stand that she initially stopped the hunters to see if they needed directions. Her initial statement refuted her initial claim in the trial.
The jury out was out for only an hour and a half and came back with a unanimous Not Guilty verdict. Our client was thrilled with the outcome.
If you are looking for skilled counsel and fearless advocacy, call The Law Offices of Dion J. Custis today at 307-638-2442 or 970-999-8835 or visit us online at https://www.custislaw.net/ to learn more.
---
Personal Injury
Premises Liability, Denver, Colorado 2018
Our client attended a party at friend's home. While standing on their balcony, the balcony collapsed. She broke her collar bone and had other injuries in the fall. The insurance company settled with co-plaintiff for low sum but refused to settle with our client due to her extensive injuries. Through our case, we overcame very tough and hard to prove Premises Liability Laws in Colorado towards guests at homes. We won the verdict at trial. Our client was awarded $130,000 in damages. The insurance company's highest offer was only $50,000 before going to trial.
---
Wrongful Death Cases
Gonzales Personal Injury Case – Cheyenne, WY 2017
Mr. Gonzales was hit by another driver without insurance and suffered major injuries, the Law Offices of Dion J. Custis and his team were successful in reaching a settlement of $95,000.
---
Criminal Defense
Tried over 100 serious felony level trials including State and Federal Courts.

Have successfully tried all types of criminal cases including major drug cases involving multiple defendants, homicides, fraud cases, sexual assault cases, DUI's, utilizing all types of defenses including mental illness, alibi, alternative suspect, lesser included crime, etc.

Successfully defended four death penalty cases all resulting in life sentences.
---
State v. Defendant, Cheyenne, WY 2 019
Our client was charged with First Degree Sex Assault of stepdaughter in a hotel room. The juvenile claimed this happened while sleeping in same bed with her mother after a concert at Cheyenne Frontier Days. Client was found Not Guilty.
---
State V. Defendant, Green River, WY 2019
Our Client was charged with eight counts of Child Sexual Assault. Our client was facing over 300 years in prison and if convicted would have served the rest of his life in prison. The defense maintained that the mothers of the juveniles (whom all lived with our client) had fabricated these allegations out of revenge because he had divorced and left the family. Our client was acquitted of all charges and received Not Guilty verdicts on all eight counts.
---
State v. Defendant Wheatland, WY 2019
A 17-year-old respondent was charged with First Degree Sexual Assault.
They were facing five to fifty years in prison. Originally, the state charged them as a juvenile, then the District Attorney moved to dismiss his juvenile case and move forward with the case as an adult. Mr. Custis then filed a motion to dismiss alleging state violated his constitutional rights in juvenile court by not trying him within his speedy trial rights. District Attorney eventually conceded our motion and dismissed the entire case.
---
State v. Defendant, Cheyenne, WY 2018
Our client was charged with possession of marijuana and delivery of marijuana for transporting 200 lbs. of marijuana through Wyoming. The State was asking for prison time. It was decided that the Client plead guilty to possession and they received probation.
---
State v. Defendant, Cheyenne, WY 2018
Our client was charged with possession and transportation of 50 lbs. of marijuana. The defendant had a prior felony. After negotiations with the State, our client received probation.
---
State v. Defendant, Cheyenne, WY 2018
Our client was charged with child solicitation. Typically, these types of cases usually end up with at least a ten-year prison sentence. After much work with evaluations and motions. The case was dismissed, and our client did not receive any conviction nor prison time.
---
State v. Defendant, Sundance, WY 2017
Our client was charged with possession and transportation of 800 lbs. of marijuana, through negotiations, our client received a "deferral", which means he does not have a felony conviction nor probation.
---
State v. Defendant, Gillette, WY 2006-2007
Our client was charged with two murders and accused of molesting one of the victims. The state sought the death penalty and we were successful in obtaining a life verdict at trial.
---
State v. Defendant, Cheyenne, WY 2006
Our client was charged with the beating death of young man. He was acquitted at trial of all charges.
---
State v. Defendant, Cheyenne, WY 1997
Our client was accused of murdering a young woman in Wyoming. He was known as the "Happy Face Killer" having committed several other murders throughout the western states. He was brought to Wyoming after being convicted of at least three murders and was serving three life sentences. We were able to secure another life sentence for him and avoid the death penalty.
---
State v. Defendant, Rawlins, WY 1997-1998
Our client was serving a life sentence for murder and was charged with the murder of a prison guard at the Wyoming State Prison. We successfully obtained a life verdict at trial.
---
State v. Defendant, Laramie, WY 1998-1999 (Matthew Shepard Murder)
Our client was the young man charged with the murder of Matthew Shepard in Laramie, Wyoming. This case was of national significance due to the allegations that Mr. Shepard was tied to a fence and murdered for being homosexual. The case received worldwide press coverage and as lead counsel, we were successful in avoiding a premeditated murder conviction at trial which eventually led to a plea agreement for two life sentences in exchange for dismissal of the death penalty.